Main Content Starts Here, tab to start navigating
Cafe Amaro | Cozy and Modern Italian Restaurant in Boston's North End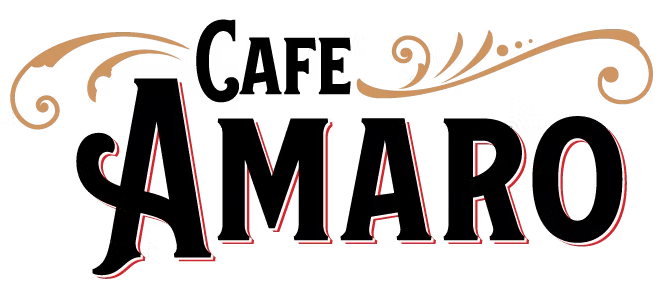 Menu
Caprese
Fresh tomatoes, mozzarella, basil, olive oil, balsamic glaze
$13
Polpette
Beef meatballs, tomato basil sauce
$14
Arancini
Classic beef ragu filling
$14
Mozzarella Fritto
Lightly battered & fried, tomato sauce
$13
Burrata
Parma prosciutto & extra virgin olive oil
$16
Antipasto
An assortment of imported Italian cheeses & cured meats
$17
Calamari Fritti
Fried calamari, arugula, cherry tomatoes, marinara
$17
Brick Oven Pizza
Margherita
Pomodoro, mozzarella, basil, extra virgin
$15
Classic Peperoni
Tomato sauce, mozzarella, sliced pepperoni
$17
Prosciutto and Fig
Gorgonzola, parma prosciutto, arugula
$16
Picante
Tomato, mozzarella, hot salami, hot nduja
$16
Broccoli Rabe
Mozzarella, broccoli rabe, hot salami
$16
Prosciutto & Funghi
Tomato, mozzarella, mushrooms
$16
Farmers
Tomato, mozzarella, bell peppers, onions, mushrooms, olives
$16
Bianco
Prosciutto, caramelized onions, light cream sauce
$16
Fusilli Alla Vodka
Pomodoro, vodka cream sauce
$23
Gnocchi Sorrentina
Potato gnocchi, pomodoro, mozzarella
$24
Linguini
Broccoli rabe, sausage, parmigiana, white wine sauce
$22
Rigatoni Bolongese
Slow braised beef, veal, pork, san marzano tomatoes
$23
Chicken Parmigiana
Fusilli, pomodoro, mozzarella
$25
Marsala
Fusilli, chicken breast, marsala wine, prosciutto, mushrooms
$26
White
Grillo - Voignier, Fruedo di Santa Tresca, Sicily 2019
Lively, floral aromatic character with notes of tropical fruits and citrus. *Organic and vegan
$12
$48
Pinot Grigio, Cantina La - Vis, Trentino, 2019
Full flavored, notes of ripe fruits and honey
$9
$38
Falanghina, Taburno, 2017
Fresh and crisp, with hints of grapefruit and white peach
$11
$42
Moscato - Villa Pozzi, Sicily, 2020
Clean, sweet aroma of tropical fruits
$9
$34
Red
Primitivo, Quattro Venti, 2016
Deep color, medium tannins with earthy and dark berry notes
$12
$46
Valpolicella Ripasso, Sorgaighe, 2016
Medium body, great balance of fruit and acidity
$13
$50
Chianti, Alta Classe, 2017
Balanced acidity with notes of red berries, soft, round tannins
$12
$46
Super Tuscan, Basile, 2012
Intense flavors of wild berries and cocoa
$12
$46
Pinot Noir, Cembra, Trentino, 2019
Well balanced, with bright fresh red fruits and a soft finish
$10
$45
Barbera D' Asti, Marco Bonfante, 2018.
Robust flavor of ripe red fruits with a soft tannin finish
$14
$55
Vietti Tre Vigne Dolcetoo D' Alba, 2019
Medium bodied with notes of black cherry and raspberry finishes with soft tannins
$14
$55
Nebbiolo - La Kiuva, Valle D' Aosta (Baby Barolo) 2018
Dry, yet smooth with intense ruby red fruit aroma and spicy notes
$65
Rosso Di Montalcino, F. Del Pino, 2014.
Balanced acidity with soft tannins and great structure
$55
Nebbiolo, Natale Verga "Heredis" Langhe, 2017
Dry, strong tannins, earthy notes of vanilla and dark fruits
$50
Rosé & Frizzanti
Rosé 2020
La crema, dry, refreshing, hints of strawberry & a bit fruity
$12
$48
Lambrusco - Medicie Quercioli Secco Doc
Dry, yet fresh and fruity with an effervescence that pairs perfectly with cured meats and cheese
$10
$40
Mionetto Prosecco
Light and crisp with fruity notes of apples and peaches
$9
$38
NV Prosecco "22" San Giovanni
$12
$48
Cocktails
Nite Lite
Barr hill gin, carpano vermouth, amaro nonino, bitters
$15
Strawberry & Fernet
Fernet branca, fresh lemon juice & strawberries
$13
Hanover St.
Glenfiddich single malt, vermouth, bitters & foro amaro
$14
Espresso Martini
Vanilla vodka, fresh espresso, coffee liquor & baileys
$15
Clasic Negroni
Barr hill gin, campari & vermouth
$15
Negroni Ghost
Barr hill gin, cochi americano & vermouth
$15
Aperol Spritz
Aperol aperteif & mionetto prosecco , orange slice
$14
Lemoncello Spritz
Fabrizio lemoncello & mionetto prosecco
$14
Beer
Stormalong Hard Cider
$10
Caffe
Lavazza Iced Cappuccino
$5
Amaro dell Etna - 29% ABV
Notes of vanilla, licorice, citrus and spice with delicate overtones of smokiness
$8
Averna - 29% ABV
Notes of Sicilian orange, licorice, myrtle, juniper berries, rosemary, and sage
$7
Braulio - 21% ABV
Earthy, floral, and minty with a touch of medicinal spice
$8
Bully Boy - 29% ABV
Boston made with a twist on a clasic liqour
$9
Amaro, Cioccolate - 27.5% ABV
Blend of botanicals, & cocoa nibs, made on cape cod
$7
Cynar - 16.5% ABV
Sweet and slightly bitter made 13 herbs and spices
$7
Fernet Branca - 45% ABV
Intensely herbaceous, sweet, and minty
$8
Foro - 30% ABV
Dark and flavorful blend of citrus and herbs with chocolate notes create a delicate not to sweet finish
$7
Lucano - 28% ABV
Upfront sweetness of herbs, caramel, and cola notes with an earthy bitterness
$7
Luxardo Amaro Abano - 30% ABV
Medium bitter notes of cardamom, cinnamon, and orange peel
$7
Meletii - 32% ABV
Rich notes of caramel, chocolate, spice and subtly bitter
$7
Montenegro - 23% ABV
Made with 40 botanicals this rich and sweet amaro has bright notes of citrus and spices creating an intense and complex flavor
$9
Nonino Amaro 35 % ABV
Grappa infused with herbs, fruits, and roots create a delicately sweet and floral aroma
$9
Santa Maria al Monte 40% ABV
Santa Maria al Monte 40% ABV
$7
South Hollow Amaro Marino 27.5% ABV
Blend of botanicals & notes of chartreuse and pine, made on cape cod
$7
Zucca Rabarbaro 30% ABV
Balanced and delicate with hints of rhubarb and botanicals
$7
Amaro Tasting
Three of your choice $18
Work With Us
We'd love to have you join our team! Please use the form below to apply.
Contact Us!
Send us a message and we'll get back to you as soon as possible. Looking forward to hearing from you.